---
Learn how Google uses data to improve your experience
When you use Google services like Maps, Search, or YouTube, you generate information: places you go, stuff you like, and people you know. This information can help make Google products work better for you in many ways.
Decide how your data is used
You enjoy these benefits of a tailored Google experience because of technology like cookies (small pieces of data that help websites remember previous visits) and other data based on things you do (for example, things you've searched for or videos you've watched).
But remember, you can control how Google uses this information. You can turn off your YouTube and Search history and opt out of seeing ads based on your interests. And you can learn how to manage cookies.
And of course, you can always sign in to your Google Account if you want to review and use all the tools and controls we offer to help you control your online experience.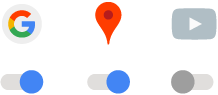 More information
Visit www.google.com/policies to learn more about the technologies we use to deliver our services (for example, how Google uses cookies), and how specific Google services process data.
Manage your Google privacy controls any time at myaccount.google.com.
---